Allowing people to chat online is nothing new. Allowing them to engage in multiple discussion threads without leaving the page is something different. Moreover, allowing them to engage while also viewing the latest stream of posts is a whole new level of functionality -- and allowing them to customize this stream (and set audio alerts) by any combination of symbols, keywords and users is nothing short of ground breaking. Add in the ability to have multiple private message windows open at the same time, and you begin to appreciate the magnitude of our programming prowess.
We didn't create this depth of functionality in a vacuum. Our thousands of member traders have shared with us their input over the years ... and we've listened! Their goal, and ours: Create a dynamic discussion forum fostering cooperative analysis for optimizing trading and better understanding the markets!
Among the key features of our Trading Rooms: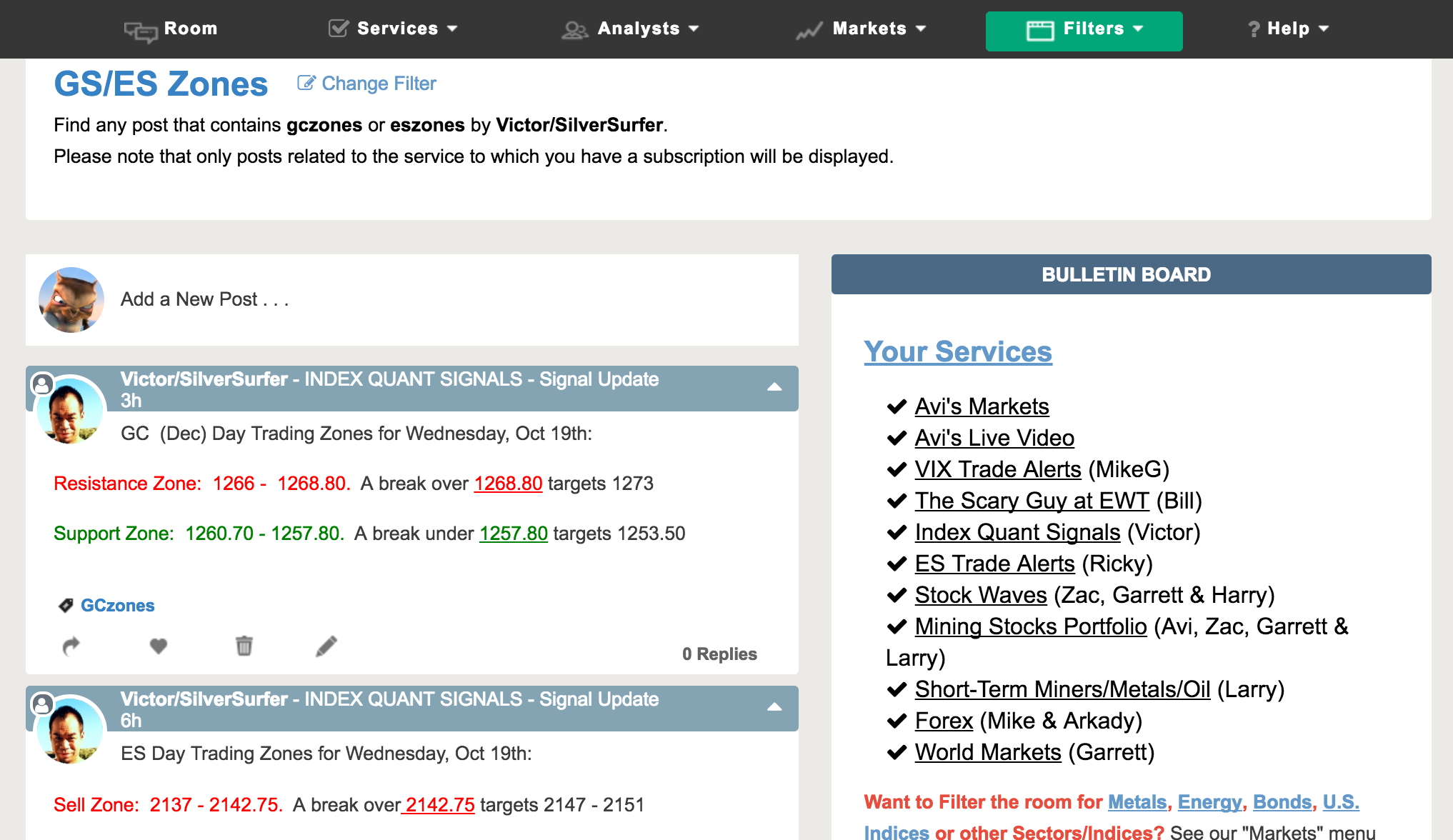 Your Own Filtered Feed:
You can filter the room by analyst, market, section, symbol/keyword, or any combination of search parameters, including whether a post includes a chart and what kind of timeframe is on the chart -- with everything else removed! Every display is live, with the room updating based on your filtered content.
Reply Notifications:
Whenever you reply to a post, the person to whom you're replying is notified in the message center atop the Trading Room page. Plus, anyone else who chose to follow that thread (by clicking on the heart icon beneath the post) will be notified. That way, if the post is older and no longer readily viewable on the live stream, the reply is still readily viewable, and a discussion can ensue.
Direct Message Center:
Direct messages are timestamped and neatly organized in our message center atop the page, with a number of features, including the ability to pm people offline, minimize chats, load past chat history, and even receive visual and audio alerts of new messages!
Customizable Display of Individual Posts:
You can have posts cut off automatically after a designated number of lines to adjust how many are viewable at one time in your window. Plus, you can customize your chart display, your timestamp display, and your right column display to have new replies appear in ascending or descending order.
Audio and other Alerts:
New posts, replies to posts, and private messages all feature audio alerts, which can be customized to make a different sound when the post is by a specific user or combination of users, and includes a specific symbol/keyword or combination thereof. Email and text alerts, of course, are also available!
Easy Video Access:
Recordings of our Live Videos are automatically uploaded and archived in a variety of formats, with links included for directly accessing specific symbols and subjects discussed in the videos.
Works on any Mobile Device:
That's right, our rooms and sites, in general, are completely mobile-friendly!